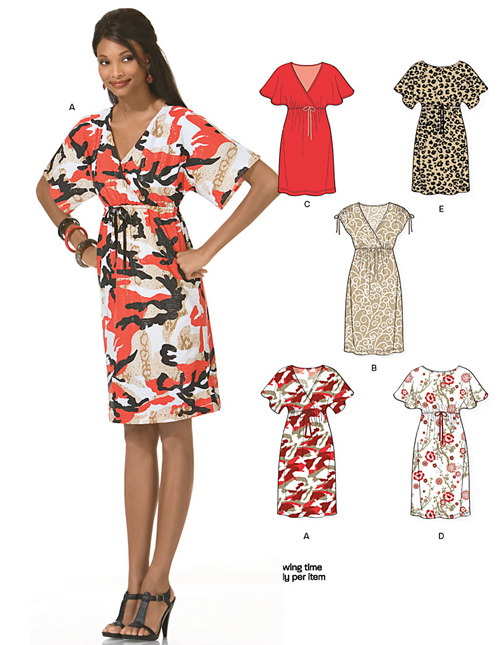 It took about 8 weeks, but I have finished my first dress! This dress is very simple to make. On the envelope it indicates that it take only 2 hours to make. It took me about 15 hours (over 8 weeks) - this is my first dress so I'm happy I finished it at all - especially when the final step was hand stitching! But it is done! So proud :)
I made version 'B' of the dress.
I made this dress using polyester (2 meters), navy Gutermann polyester thread, Birch bias binding.
I was suppose to buy cotton to make this dress, but the fabric store I went to did not have cotton with the print that I liked, so I picked the fabric based on the design then found out later it was polyester. It wasn't too hard to work with. The fabric was more "slippery" than cotton, but not too difficult for a beginner.
The only difficulty I found was sewing around the curves of the neck and sewing on the bias binding. I guess with time and experience I will get better at it. Other that that it was a simple dress to make. There was 4 pieces to trace and cut (bodice front, bodice back, skirt front, skirt back) and 5 pieces to sew together.
The pattern size I used was size 8. The fit of this dress is very loose and shapeless, resembles a kaftan when it is hanging on a coat hanger. I didn't like this dress at first, I chose it from a list of "beginners" patterns given to me. Now that I have made it and tried it on, I would actually wear it out during summer. The polyester feels cool against my skin and the flowers look nice and summery.
New Look 6936.
Pattern Review: New Look 6936
Total cost of this dress: about $25
2 meters polyester: $4,
Birch bias binding: $3,
Guttermann thread: $5,
Easy trace interface: $3,
New Look 6936 pattern: $10.
Of course the bias binding and thread will be used again, so really this dress cost was $15!! Bargain!!